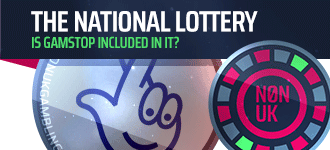 Every single company or business that offers any type of gambling services in the UK have to be licensed by the UK Gambling Commission first and foremost and that does, of course, including the National Lottery, for like all other gambling companies they are required to very strictly adhere to gambling laws in the UK and operate in line with all UKGC rules and regulations.
All such companies including the National Lottery are also required by law to have responsible gambling policies in place on their websites and apps that will allow them to ensure that anyone who is experiencing any type of gambling problems can and will be able to utilize a range of services and tools regarding those gambling-related problems.
One industry-wide service is Gamstop, and the service that organisation offers is a self-exclusion register, which anyone in the UK can sign up to and by doing so all gambling-related companies that offer any type of gambling services must check regularly the Gamstop register and ensure anyone that has signed up to it is not allowed to gambling via their sites or apps.
So if you have been experiencing gambling problems with the National Lottery and wish to self-exclude yourself from their website then you should consider signing up to Gamstop and by doing so you will not be allowed to gamble on it again moving forward and any gambling related accounts you hold at any other gambling related sites that are licensed by the UK Gambling Commission will also be closed when you sign up to Gamstop.
Scratch Card Addiction
It is also a fact that a lot of people not only can develop a gambling addiction problem with the main draws related to the National Lottery, but they can and do become addicted to buying scratch cards too and that is something that should be addressed too.
Due to the sheer number of outlets that now sell such scratch cards, it is very hard for retailers to spot someone with a gambling addiction problem, for it is far too easy to go from shop to shop buying such cards.
If you have found that you have become addicted to buying scratch cards then be aware in such instances you will be best off attending a Gamblers Anonymous meeting for by doing so you are going o be able to seek the advice of people who have a gambling problem or who have been able to overcome that addiction in the past.
It is going to take great willpower though to try not to give in to such an addiction, and one idea that could be put into place it to put a small limit on the number of scratch cards anyone can purchase from a retailer, for anyone can buy any number of scratch cards currently from such retailers.
Underage Gambling
One problem that I am aware of regarding scratch cards and even buying National Lottery tickets is that there have been many children that have got into difficulties with gambling addiction problems in the past buy them being easily able to purchase them from some retailers.
It is against the law for any retailer to sell scratch cards and/or lottery tickets to anyone under age and there is an ongoing program which sees test purchases being made by children and any retailer that is found to have done so can and will be prosecuted and can also lose their right to sell such cards and tickets.
Any parent out there that feels their child has become addicted to buying scratch cards or lottery tickets can seek advice from many different organisations, but as is often the case many parents are oblivious to such addictions and may only become aware of it when their child is in the depth of gambling-related problems.
Online Scratch Card Sites
You can, of course, buy National Lottery tickets and also play scratch card games online directly from the National Lottery website, however much like all other fully licensed UK Gambling Commission licensed sites there are some handy tools available that will allow people to set some limits of how much they spend on those sites.
There are some strict self-imposed limits that the National Lottery has put into place on their sites, so, for example, you are only ever going to be able to buy and play off of a certain number of scratch cards per 24 hour period, which does in a small way go towards ensuring people cannot get too carried away playing their scratch card related games online.
Also be aware that all other UK licensed gambling sites are also going to allow you to set your own deposit limits when gambling at such a site, and that is something you should think about doing too for when you do set such a limit you are not going to be allowed to continue to make further deposits when you reach the amount you set.
Seeking Help with National Lottery Addiction
As mention up above, if you do feel you have a problem buying National Lottery tickets and/or scratch cards there are lots of organisations that need help support and guide you too.
Please do check around and see their many options that are available, and at the end of the day never forget that you are not alone in that addiction and help and support is readily available from many different sources and channels.
Such addictions are not uncommon and if you do not seek help and support you could find yourself getting into all manner of different problems moving forward, so please do take a step back and seek the help and support you need and require, and that support and advice are out there.