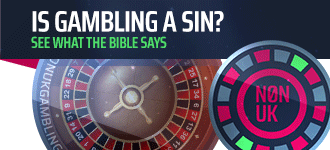 I know many people believe greatly in their religious beliefs, however, that is often something many people will find hard to continue with when they are in the grip of any type of gambling addiction problem.
One thing that is very common with such people, is that they tend to keep their gambling addictions and all of their gambling activities completely private and will often travel some distance to gamble when gambling in land-based venues.
However, with the advent of both online and mobile gambling sites and apps, it is now possible for anyone which a mobile device or any type of computer to gamble online no matter where they are and do so in such a way that no one else knows they are gambling.
Many religions do class gambling as a sin, and for someone that is in the grips of a gambling action problem the fact they are gambling and their religion deems it to be a sin can confuse, depress and sometimes throw people over the edge.
It doesn't matter which religion you believe in, it is always worth remembering that forgiveness is something at the forefront of all religions, and as such you will ultimately be forgiven for such sins, but you do need to actively make a point of giving up gambling if that is something you wish and need to do.
All Types of Gambling Deemed to be a Sin
You may think that some gambling-related activities are not a sin, however, all gambling for some people who are great follows of any faith is a sin, and as such let me just give you some idea of the many ways in which people can and will gamble.
Obviously, the way they access gambling activities can vary, some people choose to visit land-based venues in which to gamble, but more and more people gamble on their mobile devices and computers.
Buying scratch cards, lottery tickets and even taking part in a raffle are all deemed to be gambling activities and those much like every other form and type of gambling can affect many people in a negative way.
Bingo is a pastime and gambling activity that many people do take part in, and whilst it may feel like a socially accepted form of gambling, as so many people do play bingo, at the end of the day you do need to always remember that playing bingo is a form of gambling.
Betting on any sporting activities is another form of gambling, and much like every other people can often get completely addicted to betting on any type of sport, and people can now, of course, do so both online and on a mobile device, not only by visiting a betting shop or for example a racecourse of the greyhound track.
Online and land-based casinos are extremely easy to access too, and many people do also have an addiction to playing poker too.
Get Help Advice and Support
It can be a very great mental strain trying to keep to your beliefs as someone that is a very strong believer in any faith and religion when you are gambling, and the only realistic way that you are going to get the help and support you need is by reaching out for help and support, but for many that is a step that they dread and do fear.
I do need to point out that is often the case that people with a gambling addiction problem will only ever finally reach out for help when they reach rock-bottom, and as such if you have just arrived at what you feel is rock-bottom then it is not unusual for those that are to reach out finally for the support, help and advice they so desperately require.
There are many different organisations that you can approach 24 hours a day for such help and support, so when you do feel you are desperate and need someone to talk to then make sure that is something you do, for help is always on hand either online, in person or simply by reaching for your phone and call one of those organisations that are there for you right now.
You may have committed other sins when in the grip of a gambling action problem, and if you have done then you need to admit to yourself and other just what you have done, as that way they can get to understand why you did those things.
Forgiveness
You may be one of the many people out there that do not have any type of gambling addiction yourself, but you live with or even know someone that is experiencing such a problem, and you have to realise such a problem can and will overwhelm those being affected by it.
The person you love or know may have suddenly changed or you just get a feeling something is not quite right, and that is when you should offer the love and support that person needs, and ultimately give them forgiveness for anything that they may have done when in the grips of addiction.
With gambling at the forefront of so many distractions around us, it is easy to be overwhelmed by the influences of gambling in entertainment. Your help, love, support, and forgiveness can and often will have a particularly good effect on that gambling addicts outlook on life and can help them wean themselves off gambling and give up gambling over the long term.
Therefore, and no matter how hard forgiveness maybe, you really do need to be prepared to do so, for it is with the live, help and support that the person you do live that is addicted to gambling will become that person you once knew and loved.
It isn't a quick fix, just remember that and often those that have made the wise and conscious decision to give up gambling will fall off the wagon so to speak and may give in to the urge to gamble, and that is when they are going to need you there for them to help them through both the good and bad times.