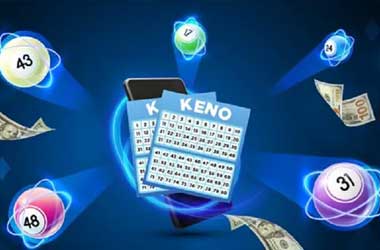 Keno is a simple casino game that is often overlooked by players, there is no skill required in playing it and whilst you may never have played it before, it could soon become a game that you do end up enjoying playing once you do give it a try.
The aim of Keno is to simply try and predict as many numbers as you can that will be selected by a  random number generator.
The most basic Keno games will operate using just 80 numbers, which are displayed as Keno Balls on the screen, and 20 of them will be selected on each game you play off.
Players can pick as little as one number or up to ten of them to have on their Keno Card, and displayed on the screen will be the payouts you will be awarded based on how many numbers you have correctly selected and matched with the ones fired out of the Keno machine.
However, be aware that there are lots of different variants of Keno, some let you select more than 10 numbers and some of them also offer their own unique bonus games.
Keep in mind though that each number grouping may have its own long term expected payout percentage, and as such as a savvy player you should always make a point of just what those payout percentages are, then only ever select the amount of numbers that returns the highest payouts and the best payout percentage too.
Keno is also a multi-stake game, and as such you will always find variants you can play that are affordable to you and your bankroll can sustain too and the best non Gamstop casinos have lots of different casino games available.
Different Online Keno Game Variants
To help you located the best number groupings when playing Keno online, below I have listed several different variants from various different game design studios and have highlighted the number groupings for each one that has the highest long term expected RTP alongside each of them.
Net Ent: Jungle Keno – It should be the 9 spot number grouping you place when playing this variant for it has an expected long term RTP of some 96.28%, so keep that in mind.
Wagerworks: Krazy Keno – The 10 number spot would be the one I suggest you place when playing this Keno game variant for its RTP has been certified as being 96.00% which is higher than any of the other number groupings that the game offers players.
Microgaming – If you decide to play the original Keno game variant offered by Microgaming then you can pick out up to 15 numbers and have them in place on your Keno card, however it is the 13 spot number grouping that offers the best payout percentage, which for the record if 94.90%.
Rival – Moving onto the online casino game designer Rival, well the do also offer a Keno game and when playing it you should keep your attention firmly on the 13 spot number grouping, for that game has a payout percentage of 94.90%, in fact the game is similar to Microgaming's in that respect.
Playtech – As for which number grouping you should be playing when you set about giving the original Keno game from Playtech a try, well that is the 8 number spot grouping which has the highest payout percentage of all betting opportunities on that game and it is certified as being 92.75%.