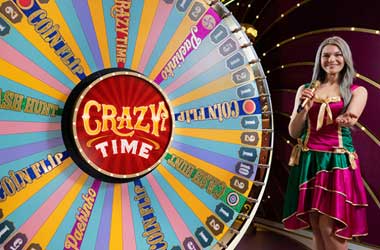 No other live casino game is proving to be as popular as the Crazy Time game, which is available at plenty of casino sites online, and the reason players are flocking to play that game is its huge payout potential.
What is interesting to note is that the game is based on one of the oldest games found in most casinos and one that had previously been associated with extremely low paybacks and a huge house edge.
By choosing to sign up and play at any of the featured Non UK gambling sites listed and fully reviewed on this website, you will of course discover plenty of live casino games, and those games are being played out in a land based venue, and players get to see all of the action via a live video feed.
It is the interaction between players and the casino dealers, croupiers and game hosts that makes those games fantastic to play, for you really do feel like you are in a land-based casino, but without having to leave your own home, as you simply place your bets and wagers via your computer.
However, when it comes to players having the chance of winning huge amounts of cash, the Crazy Time game is the one most of them make a beeline to play, and below I will give you an insight into how that game has been designed, and what makes it so unique and playable from a player's point of view.
How to Play Crazy Time
Crazy Time is based on the Money Wheel game you may have seen in land based, brick and mortar casinos, and the basics of the game are similar too.
Once you log into any Gambling sites not on Gamstop you will be required to click on the live game's menu at those casino sites, as that is where the game can be found.
The Crazy Time wheel is divided up into 54 segments, and players can place a bet on any of those segments, which consist of 21 x1 segments, 13 x2 segments, 7 x5 segments, 4 x10 segments and additionally there are four bonus game awarding segments that consist of 2 Pachinko segments, 2 Cash Hunt segments, 4 Coin Flip segments and 1 Crazy Time segment.
Be aware that the minimum and maximum stakes you can wager on this game can vary from casino to casino, however most sites tend to offer a minimum stake limit of just 0.10 up to a high rolling maximum stake limit of 1000.00.
You can place a bet on as many or as few of those segments as you want, and once the onscreen timer reaches zero, the game host will then send the wheel spinning, and a special two-reel slot machine will appear onscreen which can award any one single segment a special multiplier value.
If the segment chosen to have the additional multiplier attached to it for that spin of the wheel is the one that spins in, then payouts are boosted by that value.
Where to Play Crazy Time
#1

List of Best Casinos Not on GamStop

100% Legal & Licensed

Verified Bonus

Mobile Friendly
Cash Values Have More Chance of Hitting
Just so you know you may also find the Crazy Time game being offered at both Poker sites not listed by GamStop  and Non GamStop betting sites plus, often you will find a live suite of games also on offer at Bingo sites for GamStop registered players.
As you can probably already work out, now that I have told you just how many segments the wheel is divided up into, that the cash values have a much greater chance of being spun in than one of the bonus game awarding ones.
Due simply to the number of them that are to be found on the wheel, however as the game is completely random of course, any of those bonus game awarding segments could spin in at any time.
If you have placed a bet on any of them or even all of them, and they spin in then you are going to be awarded with the bonus game associated with the one that you have placed a wager on and has been spun in.
It is the bonus game that makes this game extremely exciting from a player's point of view, for there is never any knowing, until that bonus game has been played out just how much you are going to win, but there is always the very real chance a massive payout may just be coming your way.
With that in mind I will know what you through just how each of those four unique bonus games play off and just what you stand to win if you are lucky enough to end up being awarded with one of them.
Crazy Time Cash Hunt Bonus
By placing a bet on the Cash Hunt betting option, if that segment spins in then you get to play a pick and win styled bonus game.
That bonus game will present to you a wall on which some 108 symbols are displayed and you are tasked with simply selecting the one you want. Underneath each of those symbols is a randomly chosen multiplier value.
As such once you have made your selection, and the multiplier is revealed your initial stake is then boosted by the value of that multiplier, and keep in mind that is the Cash Hunt game was initially chosen as having an additional multiplier attached to it at that start of the game then you payout is boosted by that multiplier too.
Crazy Time Pachinko Bonus
Many players do love the thrill and excitement of triggering the Pachinko bonus game on the Crazy Time game, purely down to the fact the payouts can be huge, if everything falls into place as that bonus game is being played off.
When that bonus game is triggered players will see 16 multiplier values being added to the 16 separate landing zones at the foot  of the Pachinko machine, and the game host then drops the puck into the top of the machine, and you get to see as it bounces around as it hits the stops as the puck makes its way down the front of the machine.
Whichever  multiplier value it lands it is the one used to determine your winning payout, taking into account any additional multiplier that may have been awarded to that bonus game at the start of the initial base game wheel spin.
However, there are also special double awards that can be attached to the landing zones, and if puck lands in one of those the initially chosen multipliers are all doubled, and the host drops the puck into the machine a second time. The maximum value the multipliers can reach by the way is an awe inspiring x10,000.
Crazy Time Coin Flip Bonus
The Coin  Flip bonus game is easy to understand, for when that bonus game has been triggered, a large, oversized plastic coin comes into play, once side is coloured red the other blue.
Both sides of the coin are allocated a multiplier and then the casino host flips the coin, whichever side of the coin spins in and its respective multiplier value is the one used to determine the winning payout for that game, along once again with any additional multiplier that may have been awarded in the base game.
Crazy Time Bonus
As there is just one segment of the wheel associated with the Crazy Time bonus game, it is true and fair to say triggering that bonus game can be difficult to achieve, however the game is random and it is possible to trigger it on any spin, as long as that segment of the wheel ends up spinning in.
Once triggered a huge bonus wheel is displayed on players screens, and they are tasked with initially having to pick one of three pointers as the one that they will have activated for the spin of the Crazy Time bonus game wheel.
The wheel is then sent into live play and whichever multiplier than spins in, directly opposite the pointer a player chose is the one used to determine the value of their winning payout.
Be aware though, that the Crazy Time bonus wheel does contain bonus Double and Triple segments, and if one of those spin in opposite a player's chosen pointer, then the wheel is spun again, the multiplier values are boosted by the way by either x2 or x3 depending on which one spun in.
As it is possible to get Double and Triple values being spun in consecutively, before a final multiplier is spun in, they can grow in size to a huge x20,000 which is the maximum value that can be achieved with the help of those Double and Triple segments.
One final thing to be aware of, as this is a live casino game show styled game, it is not possible to play it online via a free play demo mode version, as Crazy Time is a real money only game.