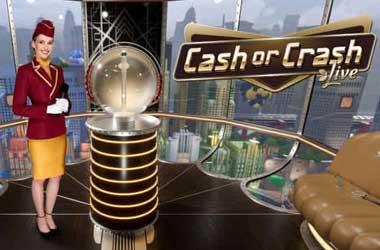 I have been asked recently is it possible to play the brand new Cash or Crash live casino game at any non UK based online casino sites, and having double checked I am pleased to let you know that there are quite a number of such sites that do now have that recently launched, live casino game on offer.
So you are certainly going to have no difficulties finding somewhere to play it online for real money, but if you have never seen or played it before then please do read on for I will give you an insight into how to play it and why it is fast becoming the most played live casino game online too.
How to Play Cash or Crash
If you are interested in playing the Cash or Crash live casino game, then please do read of if you have not yet discovered the joys of playing that game, for I am more than confident that many of you out there will be eager to give it a try, once you discover just how exciting it can be.
It is a game that can also be played at some of our featured non GamStop poker sites and you will often find it listed as a side game at those sites, so do not be too surprised to see it on offer if you are playing poker.
You will first have to decide a stake level to play Cash or Crash for, and it is suitable for low stake players and those who are happy to play it for some much higher stake levels.
But be aware there is a maximum payout cap in place on the game, so always make sure if you are playing for excessively high stakes you factor that maximum payout cap into your staking strategy, for amounts won over the caps value are voided out.
Anyway, once you have placed a bet the aim of the game is to rise up the cash ladder and by doing so each rung you successfully make it to will award its own unique payout, which is a multiple of your staked amount.
The way in which you rise up to each run on the cash ladder is by way of a randomly selected ball, allow me to explain in a little more detail.
The game makes use of a ball machine, much like games such as Keno and Bingo do, however, loaded into the Cash or Crash ball machine are a total of 28 balls.
A total of 19 of those balls are green in colour, one of them is gold in colour and the remaining 8 balls are red in colour.
Once you have placed your wager and the game begins, one single ball is fired out of the ball machine, and if that ball is red then its game over and you have lost.
However, if at any point in time the gold ball is drawn out of the machine that is going to act as a special shield which cancels out the next red ball status, that being it will not end the game when the next red ball is drawn out of the machine.
If a green ball is selected then you will move up one position on the cash ladder, and then another ball will be selected, if that ball is another green one then you will rise up another rung of the cash ladder.
You will keep on rising upwards as long as the green balls are selected one after another, or if a gold ball cancels out the next red ball.
As you arrive at each run on that cash ladder you are given the option of collecting your winnings that are displayed on the screen, or you can continue it play, but by doing so you run the risk of losing those winnings if the next ball out is a red one.
However, you are also going to be offered the option of collecting half of your winnings and gambling the other half, when that option is selected you will be paid out half of the value of the winnings that you have so far achieved, and the other half will be at risk on the next ball drawn out of the machine.
Where to Play Cash or Crash
#1

List of Best Casinos Not on GamStop

100% Legal & Licensed

Verified Bonus

Mobile Friendly
Cash or Crash Payout Percentage
It doesn't matter where you choose to play Cash or Crash, there is going to be no difference regarding the long term expected payout percentage of that game irrespective of whether you play it at an online casino or even at any betting sites not on GamStop at which it is available.
That payout percentage is 99.59% and therefore is it as high or even higher than some of the best paying games at many casino sites, in fact some video poker games which are famed for their high payout percentages do not offer one that high.
Keep in mind too that the average payout percentage of slot machines is around the 94% to 96% range and as such Cash or Crash is certainly a game to consider playing, thanks in no small part to the high paybacks is offers players.
One thing I should point out however, that being a live casino game, like all others, it is not available to play for free, so there will be no demo mode versions of the game offered anywhere online.
Best Strategy for Playing Cash or Crash
Before I pass onto you the best strategy for playing Cash or Crash, I have discovered that it is also available to play at quite a number of bingo sites not on GamStop and one of the differences when paying it at some of those sites is that they offer bonuses not available from online casinos, which can be used on that game.
Therefore if you fancy playing it but have found, as is often the case, that standard online casinos are not giving you any bonuses to play it with, then do consider playing it at a bingo site instead, but as always, make sure that you read and digest the bonus terms and conditions before claiming any such offer.
Now, if you do decide to play Cash or Crash the listed strategy on the rules of the game to play it optimally and to achieve the best paybacks says that you should continue playing on until you have successfully reached level nine.
It is at that point in time that you should stop playing that single round and chose to collect your winnings.
However, when a red ball is drawn after a gold ball, only continue playing in that round if you have reached level, 1,3 to 5, 6 to 8, 11 or as or 14 to 15, and stop playing at the round after that round.
But as is always the case, you can dream up your own gambling and playing strategies for this game, but never lose track of reality when playing it and set yourself some limits.
Other Live Casino Games
Be aware that even if you are on the GamStop  register, you can still play any live casino games, and to give you an insight into which games are popular with players please have a good look around this website.
I would suggest you have a read of my recent Players on GamStop Can Still Play Lightning Roulette Online blog post and do also have a read of my Mega Payouts Won On Crazy Time at Live Non Gamstop Casinos post too.
By doing so you will soon discover the additional benefits that will come your way when playing at any non GamStop live casino and will also discover which games are worth playing too, based on their house edges and their long term expected payout percentages as well.
As is always the case though, if you cannot control your gambling activities then you should not gamble online whatsoever.
Those featured casinos by the way do have plenty of responsible gambling tools that you are more than welcome to make use of, and one that you should always have in place is the deposit limit setting and choose a deposit limit that is affordable to you, and have it locked in place for as long as you will require it.
There are of course plenty of other casino games available at any non GamStop casino sites, including more slot machines than you could ever get the time to play in a single session, and moving forward I will be taking a look at just which slots are proving popular with players and give you the reasons why.
Please do have a good look around the website, for I am more than confident that no matter what casino related information you are looking for you are going to find it somewhere on this site, and make sure you bookmark this website too, as that way you can always find it quickly.